The Decked Canoe Archives
Assembled by Tim Gittins
Our Cruiser
Date: 1887 circa
Designer: R. J. Douglas & Co.
This canoe is identical to the "Our Cruiser" from the Merwin, Hulbert &Co. catalogue listed in the table. I don't know the relation at this point between R.J. Douglas and Merwin, Hulbert &Co. though I'm sure with a little background digging on both companies the connection will become clear.
During the final year or so of the original American Canoeist - voice of the American Canoe Association from February 1882 through the end of 1887 - R. J. Douglas and Co., Waukegan, Illinois, advertised on the cover and included a small line sketch of one of their canoe models. The following lines are taken from those advertisements.
Body Plan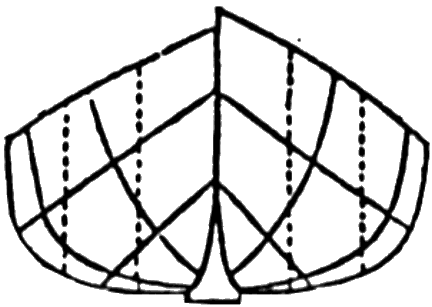 Sheer and Half Breadths