The Decked Canoe Archives
Assembled by Tim Gittins
Wood
Date: 1890 circa
Designer: Merwin, Hulbert &Co.

The information on this page is from the Merwin, Hulbert &Co. catalogue. The year of the catalogue is unknown however given references to 1888 in the write-ups for the Wood and the Tyro, I guess the year to be 1889. Many thanks to Phil DeCausemaker for sending me the Merwin, Hulbert &Co. cataloque.
(Designed by Mr. D. H. Crane)
"As to the merits of this design for racing, the well-posted reader will remember that it was in this canoe that Mr. Ben Wood lost the race for the Gardiner Cup in the W.C.A. meet of '88, by capsizing when leading Mr. Warder half a mile and with the same distance of the finish."
Length, 15 ft. 6 inches Beam, 30 3/4 inches Sail area, 120 square feet.
"Grade Y. Laps lined. Brass dagger centerboard and case, air chambers bulk headed, 3 mast tubes, wooded rudder and deck steering gear."
"With rig complete, cleats, etc................$160.00"
Line Drawings

Sail Plan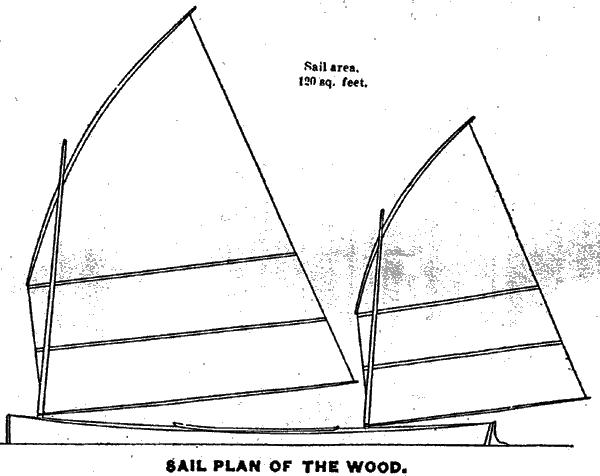 "Grade Y. Clinker built.
"Keel of white oak or of white pine; shod with oak; timbers selected white oak; skin of selected white cedar; full length strakes; sheer strake of Spanish or white cedar, according to preference; deck of mahogany or Spanish cedar; deck partners mahogany or birdseye maple; coaming mahogany, birdseye maple or oak; flooring white pine; gunwales Norway pine; stem and stern pieces hackmatack (natural crooks); deck carlines of whitewood.
"Fastenings - All fastenings are either copper rivets or brass screws. Finish - This class is finished with repeated coats of the best rubbing varnish, thoroughly cut down with pumice stone.