The Decked Canoe Archives
Assembled by Tim Gittins
Scamp
Date: 1890 circa
Designer: Merwin, Hulbert &Co.

The information on this page is from the Merwin, Hulbert &Co. catalogue. The year of the catalogue is unknown however given references to 1888 in the write-ups for the Wood and the Tyro, I guess the year to be 1889. Many thanks to Phil DeCausemaker for sending me the Merwin, Hulbert &Co. cataloque.
"This boat was designed as an effort to produce the most generally useful boat possible, fast under sail, easy to row, stability enough to shoot from, room in cockpit for two to sleep, perfectly manageable by one, easily carried by two, and owing to the absence of keel and approach to the sneak-box bow, easily dragged onto a beach or over grass by one. Moreover, it will be found an excellent boat for rough water, dry, buoyant, and because of the bluff (above water line) stern, almost impossible to be pooped.
"The model has been carefully worked out and experimented on The cut shows daggerboard and mast tabernacle of course any variety of board may be used, as may ordinary mast steps. The rudder is of the drop variety, to avoid the nuisance of shipping. A third arm on the rudder yoke answers the purposes of a bumpkin, the mizzen sheet is led through a screw-eye on it, and belayed to a cleat on the tiller yoke, and thus the steering is partly accomplished by the mizzen.
"The dry stowage compartment aft of the cockpit is entered through the bulkhead.
"The rig will be recognized as being taken from the canoe "Lassie". A large sail area is obtained on spars that will stow, the only disjointing ferule being on the mast, a couple of feet from the end.
"A tack line on the boom, through a deck pulley, and the hook on the mizzen mast, engaging the boom parallel, will insure the sails setting as flat as a board. The area of the canvas is: Mailsail, 100 square feet; mizzen, 25 square feet, and spinnaker (indicated by the broken line), 65 square feet. In addition to this the original "Scamp" had a racing sail containing 150 square feet, and a spinnaker of 120 square feet. Length over all, 15 ft.; Extreme beam, 45 in.; Depth, 14 1/2 in.; Forward shear, 10 in.; After shear, 6 in.; Length of Cockpit, 6 ft.; Breadth of Cockpit, 32 in.
"The price of the original "Scamp", smooth build, seams battened, of cedar, copper fastened, mahogany deck, fittings of nickel plated brass, exclusive of racing canvas and spars, is $179.00.
"Price, clinker built, with cedar deck, provided with 3 mast tubes and furnished as above, $135.00."
Body Plan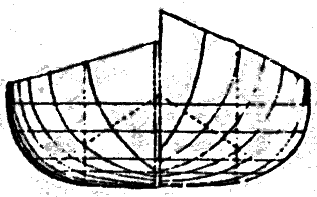 Line Drawings

Sail Plan