The Decked Canoe Archives
Assembled by Tim Gittins
'Our Cruiser'
Date: 1890 circa
Designer: Merwin, Hulbert &Co. ?

The information on this page is from the Merwin, Hulbert &Co. catalogue. The year of the catalogue is unknown however given references to 1888 in the write-ups for the Wood and the Tyro, I guess the year to be 1889. Many thanks to Phil DeCausemaker for sending me the Merwin, Hulbert &Co. catalogue.
This canoe is identical to the "Our Cruiser" from the R. J. Douglas & Co. catalogue listed in the table. I don't know the relation at this point between R.J. Douglas and Merwin, Hulbert &Co. though I'm sure with a little background digging on both companies the connection will become clear.
Length, 14 ft. Beam, 28 in. Depth, 10 in.
"This, when increased to a length of 15 feet, is the best design - as a Class A racer - that we know of. A length of 14 feet gives a most excellent all around cruiser. Stiff and roomy, fast under sail or paddle - dry and wholesome in every particular."
"Built Grade X. Fitted with 3 mast steps, hatches as shown; Radix board (No. 11); rig with dry and handy stowage, lazy back, air tanks, coaming hatch, wood rudder and deck steering gear; 8 foot double paddles jointed; laps fined down, 75 square ft. canvas."
"Price ............ $140.00"
Line Drawings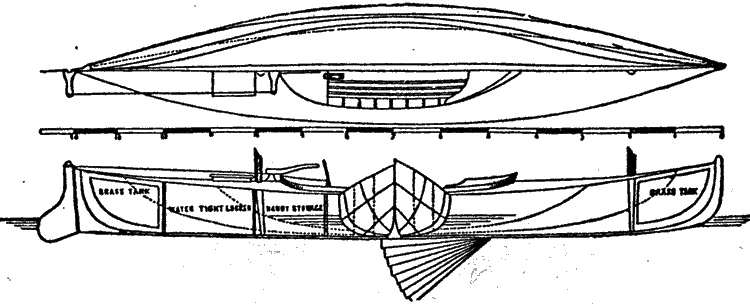 Sail Plan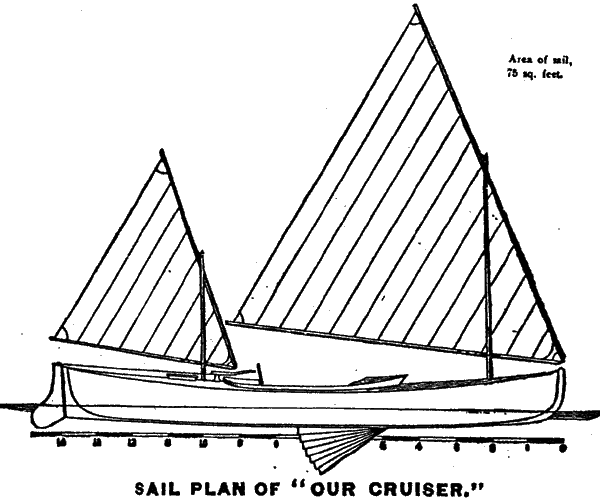 "Grade X. Clinker built.
"Keel, timbers and coaming of white oak; skin and deck of white cedar; beadings, deck partner, etc of birch, cherry or walnut; flooring and gunwales of Norway pine; stem and stern pieces of oak or walnut; deck carlines of whitewood; fastened throughout with copper nails clinched, and finished with three coats of spar varnish.