The Decked Canoe Archives
Assembled by Tim Gittins
Dot
Date: 1878
Designer: W L Alden

Dot was owned and sailed by New York Canoe Club member C. Bowyer Vaux during the late 1870's &early 1880's. Built by James Everson of Williamsburg (NY) in 1878, the lines of the dot were modelled after Mr. W. L. Alden's "Shadow" design. Numerous races were won by Dot during the early 1880's including four Challenge Cup races. It was reported in The Forest and Stream that Dot covered fifty miles in ten hours under paddle and sail on one particular cruise - probably alot of sailing and little paddling! This canoe was apparently the first to use a tiller with the canoeist sitting on the deck. Previously, the canoeist of sailing canoes sat on the bottom of the hull and leaned against a back rest. Steering was accomplished by foot peddles attatched to a rudder. This novelty became the predominant position used in later sailing canoes, setting the stage for the sliding seat.
Body Plan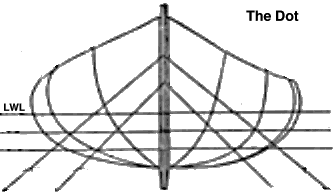 Sheer and Half Breadths Plan

Racing Mainsail Plan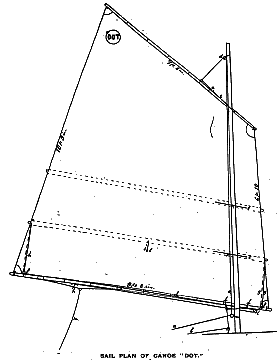 The following are Dot's principal dimensions as published in Forest and Stream, May 24, 1883.
| | |
| --- | --- |
| Length over all | 14 ft. 4 in. |
| Beam at waterline | 30 in. |
| Beam at deck | 28 in. |
| Depth at bow | 16.5 in. |
| Depth at stern | 16.5 in. |
| Depth amidships | 9.5 in. |
Here is a table of offsets for the canoe Dot followed by a drawing of the body plan as published in Forest &Stream, May 24, 1883. All measurements are in inches (to an eighth of an inch)
Depth
at
gunwales
Half Breadths
Diagonals
Deck
L.W.L.
No. 2
No. 3
A.B.
C.D.
0
19
-
-
-
-
-
-
1
15.25
6.75
5.25
4.375
3.125
7.5
6.75
2
13
11.25
10.75
9.875
8
12.875
10.75
3
12
13.625
14
13
11
15.25
12.25
4
12
14
15
13.625
11.5
15.625
12.25
5
12.25
13.875
14.5
13.375
10.625
15.25
11.5
6
13.5
12.125
12.25
10.75
7.5
13.5
10.5
7
15.625
7.75
6.125
4.75
3
8.5
7.5
8
19
-
-
-
-
-
-