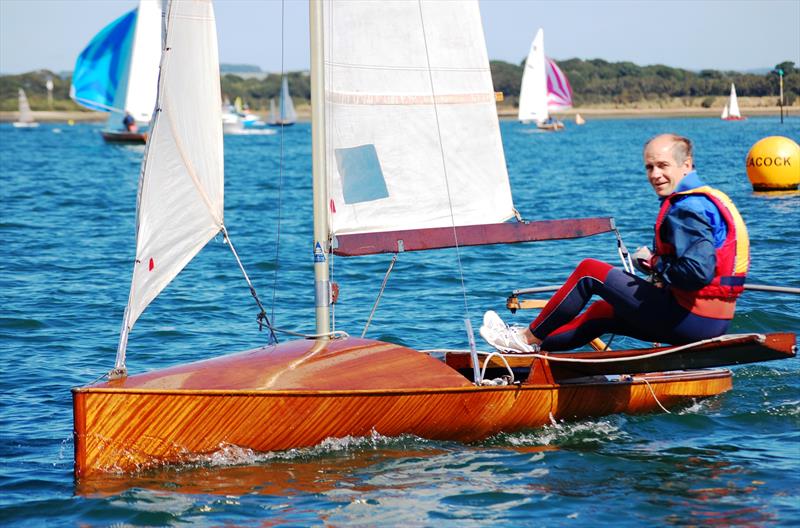 Photo (c) David Henshall ex Y&Y
http://www.yachtsandyachting.com/news/1 ... at-Revival
What a super job!
---
Hey Michael, I know you will be watching this thread...
Just so thrilled you have got Torment back on the water and really looking forwards to hearing what you think of her and canoe sailing in general. I really miss having a classic IC. Should of grabbed one whilst I had the chance!
I can't quite tell whether you persevered with the cow-horn tiller, or chickened out (I would). And for that matter the bacon slicer seat. Do tell how it went.
I thought I knew about most of the available footage from classic canoes, but just found this:
https://www.filmothek.bundesarchiv.de/v ... 09%3A14.09
Well worth a look. Lots of good footage from 1971 - Words or Euros? in Germany. Nothing of Torment, but plenty of K101 'Dicey'. I am sure there will be a few faces that some will recognise.
Sorry I couldn't embed it, you will have to visit the site.
Enjoy
eib
Ed Bremner
GBR314 - Silver Surfer
GBR242 - For sale
Lowly forum moderator
Classic & Vintage Racing Dinghy Association
http://www.cvrda.org
---
Posts: 44
Joined: Mon Apr 12, 2010 10:52 am
Location: Gosport
I guess the detail included with the video tells us where this is, even in translation. It also tells us the John Biddle, sailing "Dicey" was the winner of the regatta!
06. Steinhuder Meer: Canoe Sailing Championship swivel boat ashore, demonstration of a pull-out Gleitsitzes. Detail settings, rear end with long pins. Sailors rises out of the water in the ship, sails on. Kick-off. Field of the canoe sailor. Sailors on the Rovo large multiple settings. Boats at the turn. Sailing scenes at great speed. Sailors far lying out by the sliding fits in. Boat capsized under water at the stand-up again. Winner: John Biddle / England.
I do agree with you it was a shame you didn't manage to get Dicey. They would have made a splendid pairing. There was another wooden Nethercott that sailed at Whitefriars on the first time I sailed there. I think he struggled to master the art and moved the boat on. Like Dicey, I think that one was also modernised.
I said when I first acquired Torment that I was pleased to have become a member of a fleet of fulfilled sailors, and the sensation remains the same. Though tricky ad unforgiving of mistakes, the boat feels amazingly well balanced on the helm, and turns almost without effort. The "glide" movement through the water is reminiscent of a Sculling shell, and even in a force 2, there is enough drive to get well out on the seat.
The cow horn tiller extentions and yoke are on show in rhe german film, and as you know I have manifactured a pair but have not yet dared to deploy them as I am frightened of a breakage. On the other hand I have had no problem yet with the bacon slicer. The art is not to go near it.
I need to possibly shorten my tiller. As canoes go it is enormous and makes the prayer-mat / dancefloor an difficult place. pushing me forward onto the plank. Not ideal. Bob Michaels could not believe how big it was!
I was really upset at Bosham that on the windy day I managed to step on the trailing edge of my beautifully faired plate and broke off about an 8inch x 1/2 inch sliver...
A really scary moment when a pair of daydreaming ladies in a YW day boat came across me all Hove to, eating lunch and chatting, on port. I sort of T-boned them, an fortunately it was a direct blow with my bow on their Starboard (fibreglass) planking. The deck trim on my bow was already dodgy and needed replacement, so no real damage . So sailing a canoe is like being on a Motorbike. Watch out and sail always defensively with other traffic.
Overall the experience has been emotional!
I must find an excuse to visit you at Roadford.
Michael Brigg

K102 "Torment." Cold moulded Nethercott
K203 "Moonshadow" Carbon "Pyranha" Nethercott (Spare boat. Needs a polish)
---
Posts: 109
Joined: Sun Sep 05, 2004 8:49 pm
Location: Scotland, United Kingdom
Beautiful looking boat. Credit to all concerned.

Peter
---
Don't diss the cowhorns. I remember them as having two key advantages over today's layout: in a capsize, they never wrapped themselves under the hull and round the leading edge of the rudder; and after a tack the windward horn would come to hand once you were out on the slide, as the leeward one streamed in the wake. None of this grabbing desperately for the extension as the boat starts to heel with the pressure from the new tack. It was rather like having one's manservant on board: Jeeves, I can't steer this thing without the tiller - certainly Sir, I'll have it brought to you in a moment.

The downsides: reaching for the mainsheet after a capsize (or worse, wrapping the mainsheet around one of the horns); and attempting to free off when heeled - a nine foot slab boom does not make this easy.

Perham H
GBR311 (but once K115)
---